Un taller para el escenógrafo Hubert Colas
Con Mathieu Permingeat.

2014. Vallon des Auffes, Marsella.

Ampliación de una casa de ciudad.

Avec Mathieu Permingeat.

2014. Vallon des Auffes, Marseille.

Extension d'une maison de ville.


With Mathieu Permingeat.

2014. Vallon des Auffes, Marseille.

Extension of a city house.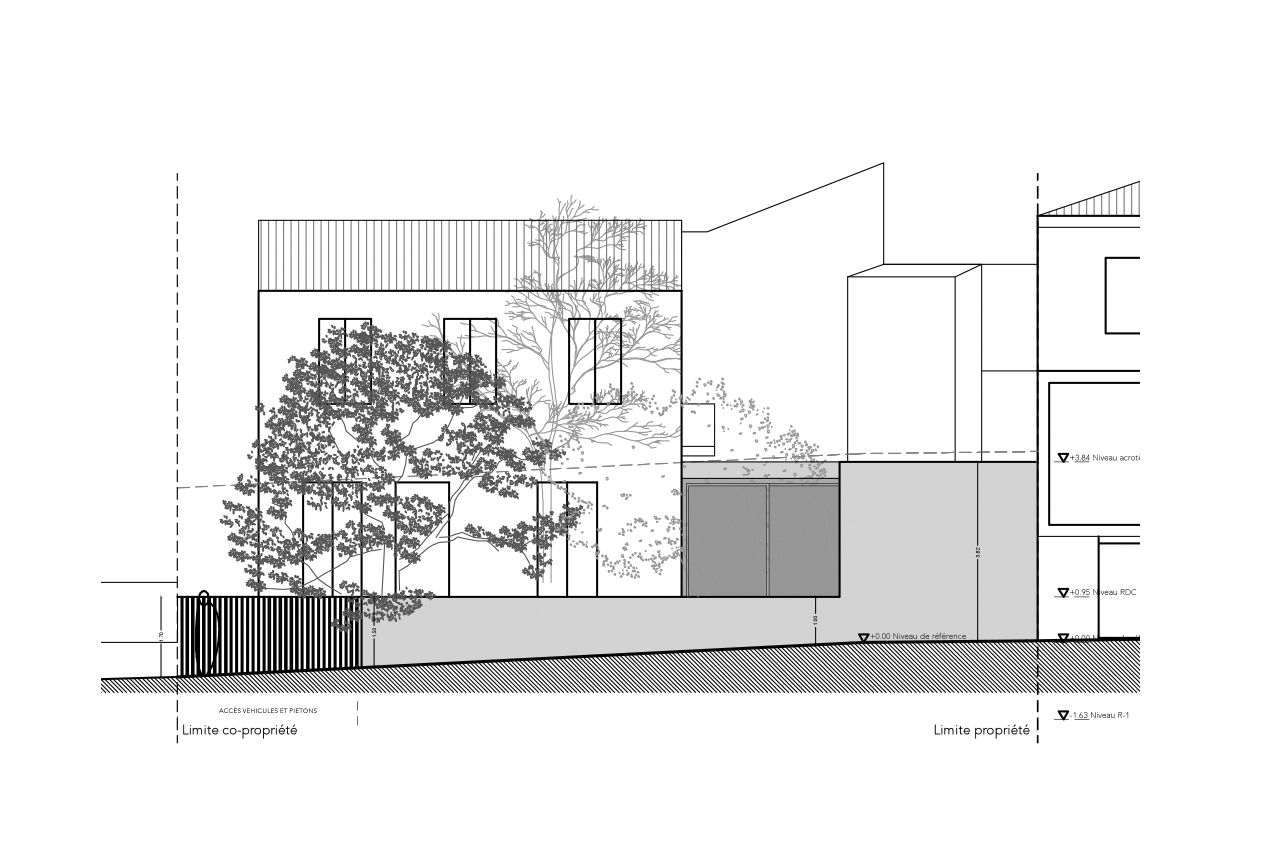 El dispositivo arquitectónico elegido es simple. Es un suelo que se convierte en un muro que se convierte en un techo. El suelo acoge el emplazamiento reservado al coche en el límite Sur del terreno. Es también el nuevo recorrido para peatones que permite acceder a la casa. El nuevo muro perimetral al Este establece un límite entre el jardín y la calle. Se beneficia de la pendiente natural del terreno generando una variación de su altura, ofreciendo al espacio del jardín mayor intimidad. El techo instalado en el límite Norte de la parcela acoge los nuevos espacios de vida del proyecto y se conecta a la casa existente. Esos nuevos espacios se abren integralmente al Sur hacia el jardín. Dotado de sus nuevos límites, el jardín vuelve a ser la "habitación" más grande la casa, situado en el centro del encuentro de lo existente y de las nuevas construcciones. De esa manera, las reúne y las articula de forma sencilla.




Le dispositif architectural retenu est simple: il s'agit d'un sol qui devient un mur qui devient un toit. Le sol accueille l'emplacement réservé à la voiture en limite sud du terrain. Il est aussi le nouveau cheminement piéton permettant d'accéder à la maison. Le nouveau mur de clôture à l'est établi une limite franche entre le jardin et la rue. Il bénéficie dans sa plus grande longueur de la pente naturelle du terrain entraînant une variation de hauteur qui offre à l'espace du jardin une plus grande intimité. Le toit installé en limite nord de la parcelle abrite les nouveaux espaces de vie du projet et vient se connecter à la maison existante. Ces nouveaux espaces s'ouvrent intégralement au sud vers le jardin. Doté de ses nouvelles limites, celui-ci devient la plus grande pièce de la maison situé au coeur de la rencontre entre l'existant et les nouvelles constructions qu'il réuni et articule simplement.


The architectural figure chosen in this project is simple. Its a floor that becomes a wall that becomes a roof. The ground welcomes the location reserved for the car at the southern limit of the plot. It is also the new pedestrian route that allows access to the house. The new perimeter wall to the east creates a boundary between the garden and the street. It benefits from the natural slope of the ground generating a variation of its height offering to the space of the garden more intimacy. The new roof installed at the northern correspond to the new living spaces created and connects to the existing house. These new spaces open fully to the south towards the garden. Endowed with its new limits, the garden becomes the largest "room" of the house, located in the center of existing and new constructions. In that way he gathers and articulates them simply.