Con Mathieu Permingeat.
︎ Festival Intramurs
201. Mercado central de Valencia.

Intervención urbana.
Avec Mathieu Permingeat.
︎

Festival Intramurs



2014. Marché central de Valence.

Intervention urbaine.
With Mathieu Permingeat.
︎

Festival Intramurs



2014. Central Market of Valence.

Urban intervention.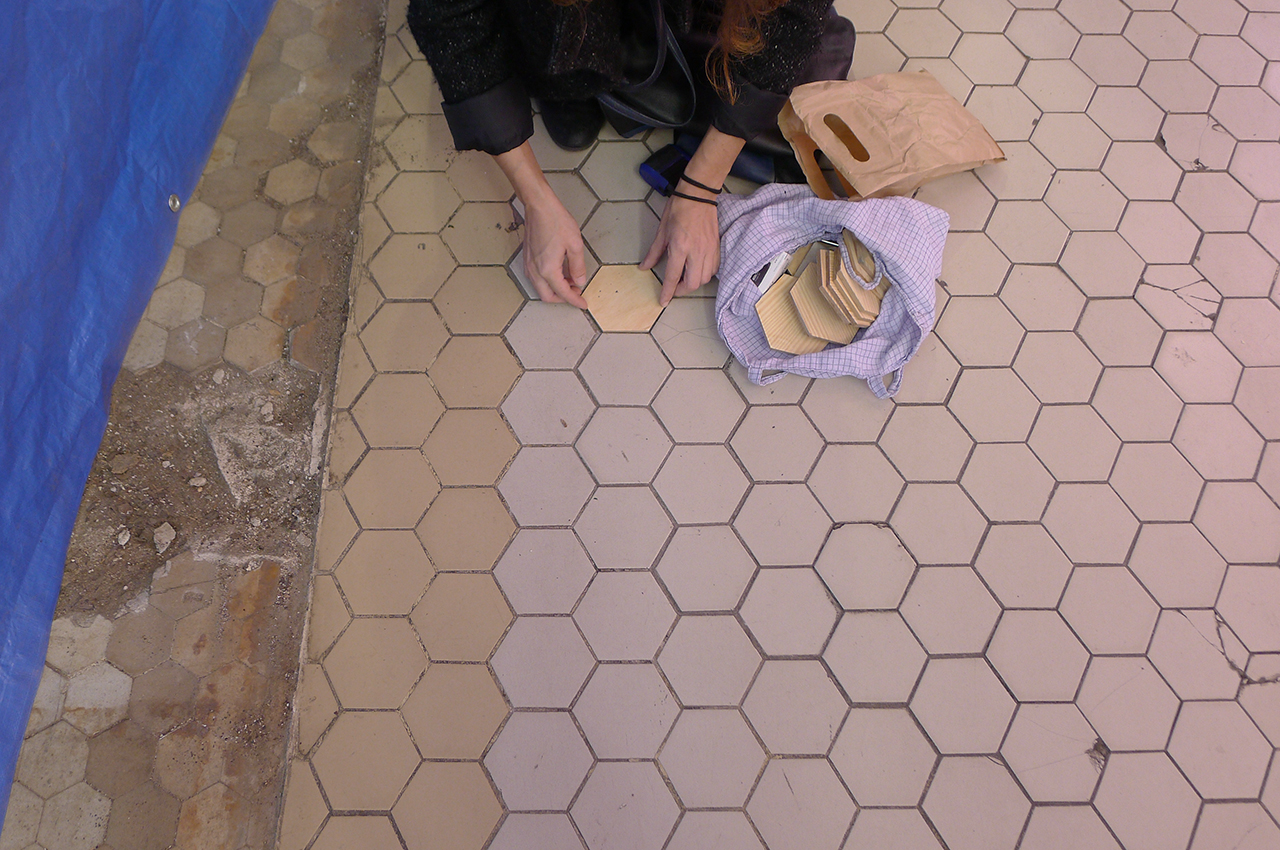 La intervención consiste en remplazar las típicas baldosas hidráulicas hexagonales que faltan del suelo del Mercado Central por baldosas de madera en cuya cara inferior está estampada la frase « madera para tocar madera ».

Esa acción es una ocupación poética de una micro-parcela del espacio público. Gracias o a pesar de su escala reducida, crea una interdependencia entre objeto, lugar e individuo. Aunque casi imperceptible, genera una situación atípica en un lugar emblemático. No construye un nuevo espacio sino que revela lo existente, se coloca, se instala en él. Hace de lo que aparentemente falta el lugar capaz de albergar nuevas esperanzas. De esta manera, lo frágil acaba siendo el elemento de unión. Por lo tanto, esa toma de conciencia de lo sensible lleva a una cierta confrontación entre el individuo y su entorno, entre sus creencias y el bien común. Esa acción, esa lúdica deambulación, no transforma el lugar sino la percepción que tenemos de él. Lo altera, y aunque con cierta ironía, le da un valor añadido, una plusvalía de positivismo. Un hechizo distribuido al azar como forma de desobediencia. La localización física del imaginario o de una utopía.

L'intervention consiste à remplacer les tomettes typiques du sol du marché central de Valence par des hexagones de bois où, sur la sous-face, est tamponné la phrase "Bois pour toucher du bois".

"Madera para tocar madera" est une occupation poétique d'une micro-parcelle de l'espace public. Grâce ou malgré son échelle réduite, elle crée une interdépendance entre objet, lieu et individu. Bien que presque imperceptible, elle génère une situation atypique dans un lieu emblématique. Elle ne construit pas un nouvel espace mais plutôt révèle l'existant. Elle fait de ce qui apparemment manque le lieu capable d'accueillir de nouveaux espoirs. De cette manière le fragile devient un élément d'union. Cependant cette prise de conscience du sensible emmène à une certaine confrontation entre l'individu et son environnement, entre ses croyances et le bien commun.Cette action, cette ludique déambulation, ne transforme pas le lieu sinon la perception que nous en avons. Elle l'altère, et bien qu'avec une certaine ironie, elle lui donne une valeur ajoutée, une plus-value de positivisme. Un sort distribué au hasard comme forme de désobéissance. La localisation physique d'un imaginaire ou d'une utopie.




The intervention consists in replacing the typical hexagonal hydraulic tiles that are missing from the Central Market floor by wooden tiles and on the underside is stamped the phrase "wood to knock on wood".

The installation " wood to knock on wood " is a poetic occupation of a micro-plot of public space. Thanks or in spite of its reduced scale, it creates interdependence between object, place and individual. Although almost imperceptible, it generates an atypical situation in an emblematic place. It does not construct a new space but reveals what exists, is placed, is installed in it. It makes what appears to be lacking the place capable of accepting new hopes. In this way, the fragile ends up being the element of union. Therefore, this awareness of the sensible leads to a certain confrontation between the individual and his environment, between his beliefs and the common good. That action, that playful ambulation, does not transform the place but the perception we have of it. It alters it, and although with some irony, it gives added value, a surplus value of positivism. A spell randomly distributed as a form of disobedience. The physical location of the imaginary or a utopia.